Our Philosophy & About our School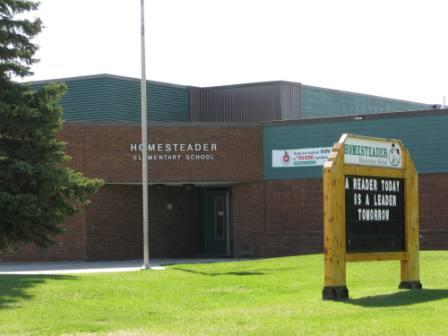 Our Vision:
All students will learn to their full potential and develop the ability, passion, and imagination to pursue their dreams and contribute to their community.
Our Mission:
We work with families and community partners to provide safe, caring, healthy, diverse, inclusive, and equitable learning experiences that engage students to achieve their full potential in an increasingly interdependent world.
We believe that Homesteader is a safe, supportive school which fosters social, emotional and academic growth. We understand the importance of providing our students with an environment of trust, co-operation and respect. We recognize that each child is unique and special with their own potential for growth and success. At Homesteader we celebrate our cultural diversity and promote a sense of community in all classrooms. Students are engaged in their learning through the use of technology, hands-on activities and co-operative learning activities. Homesteader staff members are committed to continuous professional improvement and model life-long learning. We value our relationships with our school community and recognize the importance of open communication among parents, students and staff.
Homesteader School is located in the south Clareview area. The community contains a mixture of single family homes and high density housing. We are an optimal enrolment school, offering programming for our community students and we welcome students from other communities into our Opportunity and Early Education programs. We are experiencing an increase in our Aboriginal population and in the number of ELL students. Several of our students come from single parent families and we qualify for full-day kindergarten due to the socio-economic needs of our community.
Homesteader School is a district site for Early Education and Opportunity programs. Our plan is to have seven classes of grade one through six students, one full-day kindergarten class, one Division II Opportunity class, and four preschool Early Education classes. All Division I and II classes will use the Balanced Literacy Program to support our work in the areas of reading and writing. The Leader in Me program, Home Reading Program, Student Leadership, Character Education, Intramurals and other extra-curricular clubs help to promote school spirit and provide students with additional opportunities to develop sportsmanship and positive social skills. Our high school partnership with Big Brothers Big Sisters will continue to support the social, emotional and academic growth of our students. For the 2015-2016 school year, Homesteader School will be in year 6 of the "Leader in Me" program. As we continue to focus on leadership, our goal is to become a school recognized for character, academics, and community service. The 2015-2016 year will be our fifth year as an " Apple" school. The Homesteader School Council/PAA will continue to enhance programming by supporting technology, special activities, performances and incentive programs.